Suites
JOJO | LADY | VENCO | SEPARÉ | STARÝ PÁN | MI©KO | ZUZI
Doubleroom ZUZI
| | |
| --- | --- |
| Area: | 36 m2 |
| Bedroom: | double bed, wardrobe, toilet-table, floor heating |
| Bathroom: | toilette, bidet, washbasin, corner bathtub, hot water boiler, floor heating |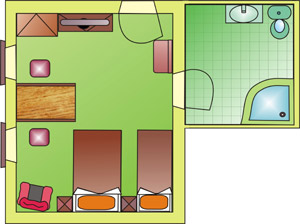 Ground plan of the Doubleroom ZUZI
SKK pricelist of accommodation as of 09.07.2008
Suite
1 person SKK/day
Eur/day
2 people SKK/day
Eur/day
3rd and more people SKK/day
Eur/day
Weekend family price for 2 adults and 2 children SKK/ weekend
Eur/weekend
Doubleroom ZUZI 36 m2
1808/1808
60/60
1808/1808
60/60
Prices with breakfast / Prices without breakfast
The price of accommodation with breakfast includes the price of breakfast for an adult.
The price of breakfast for child under 10 years of age is SKK 100.
The price includes 19% VAT.
contact
Apartmány SLOS
Horná Strieborná 19
974 01 Banská Bystrica
tel.: 048 415 15 16
048 415 37 63
mobil: 0903 890 029
fax: 048 412 60 43
web: www.ubytovaniebb.sk
e-mail: apartmany@slos.sk